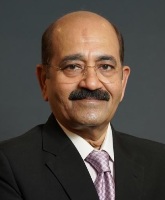 Dr. Rajiv Kumar Chugh
President
Dear members,
I am humbled, honoured and privileged by the opportunity to serveas the President of the largest, most vibrant, and also oldest Dental Society in the country – the Indian Dental Association(IDA)in its 75th year. I have been a proud member of the Indian Dental Association for over 45 years.
My involvement with the activities of IDA were initiated in 1977 in the first year of K.G's. Medical college, Lucknow itself from where I completed my post-graduation in Conservative Dentistry & Endodontics in 1984.I have always been passionately involved with the dental profession and IDA. Throughout my professional career I have gained valuable knowledge and experience in a variety of clinical, technical, and instructional oral health services in both, private and public sectors. I while working for IDA have also been privileged to be involved with developing oral health policy, administration and program delivery to improve the oral health within vulnerable Indian community.
As a member of IDA I have held several posts starting from being an executive committee member in 1986. I have had the pleasure of working with some remarkably brilliant and empowering fellow colleagues and members of this prestigious association who are passionate about our profession and promoting the interests of IDA whereby determining the course and growth of this organization. I am following the footsteps of some great leaders in the dental profession. This organization was formed back in 1947 by individuals who were motivated and persistent in pursuing a goal of success for the association. I intend to keep that tradition going.
The next one year comes as a challenge for all of us as we recover from the crisis of the covid pandemic. The second challenge we will have is increasing our membership, for that we need to bring the youth into the association starting from the local branches. I look forward to collaborating with our members to leverage new opportunities to increase memberships and growth for IDA.
My vision for the IDA is to maintain our commitment to address the needs of our members and to provide the support required to further carry out the promotion of oral health to the masses.
One of my responsibilities is to facilitate the transformation of great viable proposals into reality.We will do our best to make you proud of your association. I will be leading a society that is responsive to direct input from its members. So this is your chance.I encourage all members to continue supporting us to further the goals of the IDA so that we all can move forward together in promoting the dental professionin India and IDA as the world leaders of tomorrow.
Dr. Rajiv Kumar Chugh
President
Indian Dental Association