Toothache or tooth pain is caused when the nerve root of a tooth is irritated. Dental (tooth) infection, decay, injury, or loss of a tooth are the most common causes of dental pain.
The first step in the evaluation of oral pain should be to determine its aetiology. Dental sources are most common. However, pain arising from non-dental sources such as myofascial inflammation, migraine, maxillary sinusitis, nasal tissues, ears, temporomandibular joints, anginas and neuralgias always must be considered and excluded.
Caries is initially asymptomatic. Pain does not occur until the decay impinges on the pulp, and an inflammatory process develops.
Reversible pulpitis is characterised by pain caused by stimuli such as cold. It usually does not last for very long, and usually stops on removing the stimuli. If left untreated it can progress to irreversible pulpitis.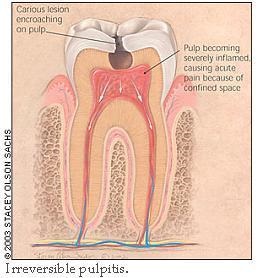 If a carious lesion causing reversible pulpitis is not treated, the condition will progress to irreversible pulpitis, a severe inflammation of the pulp (Figure 1).
Pain becomes severe, spontaneous, and persistent, and is often poorly localized.
Patient may complain of pain with hot foods and liquids.
Pain during recumbence and even spontaneous pain.
The only way to definitively treat the discomfort is root canal treatment (removal of the pulp and filling of the empty pulp chamber and canal) or extraction of the tooth.
The pain should be managed with appropriate analgesia such as a non-steroidal anti-inflammatory drug (NSAID) or a weak opioid combined with an NSAID or acetaminophen.
Patients should be warned of the risks of further complications if they do not have prompt definitive treatment.
A severely inflamed pulp will eventually undergo necrosis, causing apical periodontitis, which is inflammation around the apex of the tooth (figure 2).
Signs and Symptoms
Pain is severe, spontaneous, persistent and localizes to the affected tooth.
The tooth is sensitive to percussion with a metal object.
Regional lymphadenopathy can be present.
Management
Root canal treatment or extraction.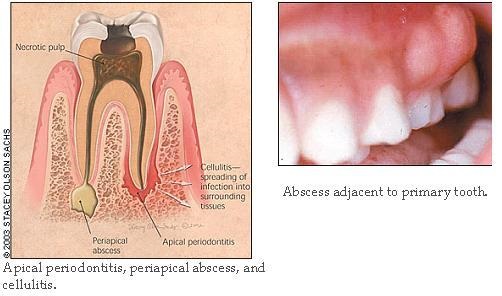 Apical abscess is a localized, purulent form of apical periodontitis (Figures 2 and 3).
It may present clinically as a fluctuant buccal or palatal swelling, with or without a draining fistula.
Regional adenopathy is usually present.
If pus is draining, pain usually is not severe.
Antibiotics are not necessary unless concurrent cellulitis is present.
Acute incision and drainage of the fluctuant area results in immediate relief to the patient
Definitive therapy is root canal treatment or extraction.
Cellulitis may follow apical periodontitis if the infection spreads into the surrounding tissues(Figure 2).
Diffuse, tense, painful swelling of the affected tissues occurs.
Regional lymphadenopathy is common, and fever may be present.
The infection can spread into the major fascial spaces of the head and neck, with the attendant risk of airway compromise.
Maxillary infection also may spread to the periorbital area, increasing the risk of serious complications that include loss of vision, cavernous sinus thrombosis, and central nervous system involvement.
The examination should focus on determining if the cellulitis remains localized or has spread regionally.
Patients with localized cellulitis are treated with antistreptococcal oral antibiotics, such as oral penicillin in a dosage of 500 mg three times daily in adults or 50 mg per kg per day divided into three doses in children.
In the event of true penicillin allergy, erythromycin or clindamycin may be substituted.
Appropriate pain medication should be provided.
Definitive therapy is root canal treatment or extraction, which in selected cases may be delayed until swelling has subsided.
If infection extends regionally into the deep spaces of the head and neck as evidenced by severe swelling, the risk of life-threatening complications such as airway compromise is substantial.
Generally, these patients should be hospitalized and provided with surgical and infectious disease consultation. Imaging, usually with computed tomographic scanning, is mandatory, as is surgical drainage if abscess formation is detected.
Intravenous broad-spectrum antibiotic treatment should be started immediately and should include coverage for anaerobes.
In general, the same principles of initial evaluation and management apply to the primary and permanent dentition. However, carious lesions of the primary teeth less frequently cause pain and abscesses and more frequently drain cutaneously than lesions of the permanent dentition. The systemic effects of infection are more pronounced in children, with rapid temperature elevations, greater risk of dehydration, and more rapid spread of infection.
Periodontal disease is an inflammatory destruction of the periodontal ligament and supporting alveolar bone. The main etiologic agent is bacterial plaque. Multiple bacteria are implicated, but as the disease progresses, gram-negative anaerobes predominate.
Patients with chronic periodontal disease or patients who have a foreign object lodged in the gingiva may present with an acute periodontal abscess.
Throbbing pain with erythema and swelling over the affected tissue.
The tooth is normally tender to percussion and shows increased mobility.
If left untreated, the abscess may rupture or, less commonly, progress to cellulitis.
Within 24 hours drainage and debridement of the infected periodontal area must be done.
Antibiotics are not normally indicated if debridement is successful, but they may be used depending upon the dentists discretion.
Pericoronitis is inflammation of the soft tissues surrounding the crown of a partially erupted tooth, most commonly a wisdom tooth (Figure 4). It occurs when bacterial plaque and food debris accumulate beneath the flap of gum covering the partially erupted tooth.
Inflammatory oedema, often complicated by trauma from the opposing tooth, leads to swelling of the flap, pain and tenderness.
Bad taste caused by pus oozing from beneath the flap.
Regional lymphadenopathy is common, and cellulitis and trismus (inability to open the mouth fully) can occur.
In severe cases, the oral airway can be compromised.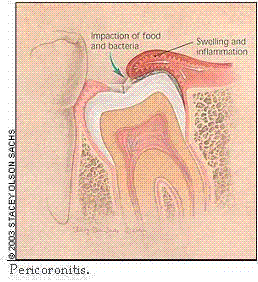 If pericoronitis is well localized, hot salty mouthwashes and irrigation under the flap can resolve symptoms in the majority of cases.
Localized cases that do not respond to mechanical therapy and more severe disseminated cases with spreading cellulitis should be treated with penicillin and appropriate pain medication.
The patient should be evaluated to see if symptomatic treatment can suffice until eruption is complete or if surgical therapy to remove the gum flap or underlying tooth is necessary.
Dental trauma is extremely common. Children are particularly affected, with one third of five year olds having suffered injury to their primary teeth, and one fourth of 12 year olds having suffered injury to their permanent teeth. Injuries to teeth and their supporting structures can be classified as fractures, lateral or extrusive luxation (loosening and displacement of the tooth), intrusion (displacement of the tooth vertically into the alveolar bone), and avulsion (complete displacement of the tooth out of its socket).
The mechanism of injury and timeline are particularly important aspects of the history because they define the risk of associated injuries and available treatment options. Examination should focus on related soft tissue injuries and the need for suturing, signs of tooth loosening, displacement or fracture, and disturbance in the bite or other signs of alveolar fracture. Complete diagnosis requires at least one dental radiograph in all cases.
All patients with traumatized teeth ultimately need follow-up with a dentist for complete diagnosis and long-term care. Long-term sequelae can include pulp death, root resorption, and displacement or developmental defects of permanent tooth successors.
Trauma to the teeth is not life threatening; however, associated maxillofacial injuries and fractures can compromise the airway. Morbidity to the teeth may be individualized to primary and permanent teeth. Fractures are more common in permanent teeth; primary teeth usually become displaced.
Primary teeth - Failure to continue eruption, colour changes, infection, abscess, loss of space in the dental arch, ankylosis, injury to the permanent teeth, abnormal exfoliation.
Permanent teeth - Colour changes, infection, abscess, loss of space in the dental arch, ankylosis, resorption of root structure, abnormal root development.
The male-to-female ratio is 2-3:1.
The average age of injury is variable. In youths, falls and sporting activities account for most injuries. In later teenaged years, road traffic accidents (RTA) account for most injuries.
| Diagnosis | Definition | Presentation | Complications | Treatment |
| --- | --- | --- | --- | --- |
| Reversible Pulpitis | Pulpal inflammation | Pain with hot, cold, or sweet stimuli | Periapical abscess, cellulitis | Filling |
| Irreversible Pulpitis | Pulpal inflammation | Spontaneous, poorly localized pain | Periapical abscess, cellulitis | RCT, extraction |
| Abscess | Localized bacterial infection | Localized pain and swelling | Cellulitis | I & D and RCT or extraction |
| Cellulitis | Diffuse soft tissue bacterial infection | Pain, erythema and swelling | Regional spread | Antibiotics and RCT or extraction |
| Pericoronitis | Inflamed gum over partially erupted tooth | Pain, erythema and swelling | Cellulitis | Irrigation, antibiotics if cellulitis also present |
| Tooth Fracture | Broken tooth | Clinical examination and radiography | Pulpitis and sequelae | Fillings, with or without RCT, extraction |
| Tooth Luxation | Loose tooth | Clinical examination and radiography | Aspiration, pulpitis and sequelae | Splinting, with or without RCT, extraction |
| Tooth Avulsion | Missing tooth | Clinical examination | Ankylosis, resorption | Re-implantation and splinting |
| Tooth Subluxation | Tooth was hit | Clinical examination and radiography | Pulpitis and sequelae | Splinting, periodic evaluation, RCT, extraction |
| Tooth Intrusion | Tooth is pushed in | Clinical examination and radiography | Pulpitis and sequelae | Periodic evaluation, repositioning, RCT |
| Root Fracture | Root is broken-vertical or horizontally | Clinical examination and radiography | Pulpitis and sequelae | RCT or extraction |
| Dentoalveloar Fracture | Fracture of supporting alveolar process | Clinical examination and radiography | Loss of teeth | Repositioning and splinting |
RCT: Root Canal Treatment; I & D: Incision and Drainage.